Visual Identity Standards
I. OFFICIAL UNIVERSITY SIGNATURE
The official university signature consists of two elements: the wordmark, which is the words Mississippi State set in a custom typeface called Bulldog, and University set in Futura ND Bold typeface, along with the M-State symbol. The signature serves to identify the university in all forms of communication and preserves the integrity of its reputation for academic quality, innovation and leadership in higher education.
The signature is a new mark designed to be used as ONE UNIT, and shall be identified with a TM until the Federal Trademark Registration is finalized, at which time the identifier will be changed to a ®. The official university signature should be used with all communications produced by the university. The following guidelines apply:
The signature should be applied to the front outside cover of printed materials in most instances.
When the signature is not applied to the front outside cover, it should be applied to introductory pages and/or the outside back cover of printed materials.
For official web pages, the signature must appear at the top of the page on the left.
The signature never should be used as a headline.
The signature and wordmark always should be reproduced from official university artwork.

Mississippi State University is federally registered and shall be identified with a ® when used separate and apart from the signature.
The vertical and horizontal versions of the university signature also include the ™ identifier, where as the wordmark by itself utilizes the federally registered symbol, ®.
The signatures and wordmark in maroon, black and white are available for download here.
A. CLEAR SPACE
This diagram indicates the staging specifications for the signature. The signature must be surrounded on all sides by the specified clear space to separate it distinctly from any other graphic elements. This clear space and separation from other elements provide graphic impact and preserve the integrity of the signature. Clear space is equal to the height of the letters of the word "UNIVERSITY" from the signature. The clear space varies with the size of the signature. Leave at least 1/8 inch of protected white space around the signature.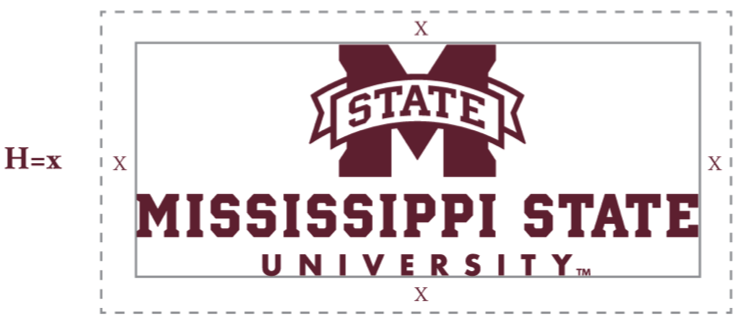 B. SIZING AND PROPORTIONS
Do not reproduce the official university signatures or secondary signatures less than 2 inches in width for the vertical version and 3 inches in width for horizontal signature in printed material or as specified below for the web. At widths less than this, the clarity and integrity of the signature is compromised.
It is expected that the full vertical or horizontal signatures be used. However, where space limitations occur, the Mississippi State University wordmark can be applied. It can be displayed no smaller than 1.5 inches wide.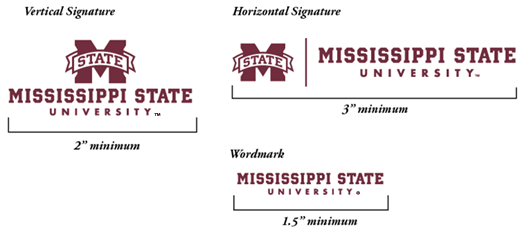 When resizing the signature, it is critical that it be resized proportionately. Use the shift key when drag sizing (applies to both Windows and Macintosh platforms), or use equal percentages when using a scaling tool.
C. ACCEPTABLE PRIMARY UNIVERSITY SIGNATURES
Examples below show the maroon, black and white version of the university's academic signatures and institutional wordmarks, both horizontal and vertical options.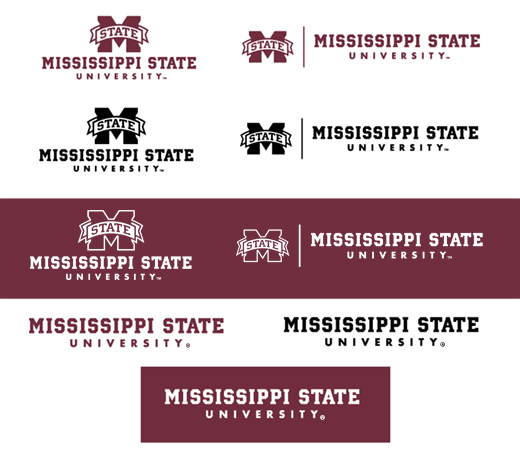 D. ALTERATIONS 
Never alter or redraw the signature elements.  Do not place the signature elements inside any other shape or combine them with any other symbol or graphic. The wordmark has been customized for the university; therefore, campus units should always reproduce the signature or symbol from authorized digital files or authorized reproduction-quality originals.
Do not change the proportions or reconfigure the signature.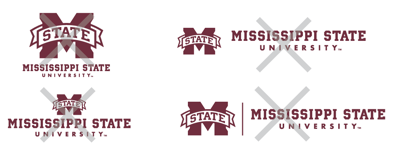 Rotating the signature is not allowed.

Resetting the type is not allowed, or using other M-State versions.


A) The signature can appear in one color: Pantone 505, gray or black. For the web, it must be #5D1725 (maroon).

B) The white version of the signature (both horizontal and vertical options) can also be used on dark backgrounds such as black or Pantone 505, this option allows for contrast and readability. Single-color publications often make use of this technique.

C) When possible, the maroon or black signatures should also have the banner displayed in white, when printing in full color is an option. If the background color provides sufficient contrast and are printing in more than one color, keep the banner white.

D) A single-color signature can also appear on a light colored background or paper.

 

E) Other color combinations that provide sufficient contrast may be allowable in certain situations. Contact the Office of Public Affairs if you are considering other color combinations. In general, choose backgrounds that contrast with the signature to give it impact. Garish colors inhibit readability, as do busy or heavily textured backgrounds. Consult the approved MSU color palette. (See III Color Palette).
A. University Units
University units include colleges, departments, institutes, centers, labs and offices. The official university signature represents all Mississippi State University departments and offices; however, an individual unit may wish to identify itself by using the unit name through the use of a secondary signature. With the unit name below "Mississippi State University," the unit name receives prominence while retaining an overall university identity.
Unique college, department, school, office and other unit seals, logos or wordmarks may not be used as a signature or dominant graphic element on any university communications, and no new logos may be developed.
Units with existing logos may use them in a limited capacity; inside pages and back covers on print publications and within image slideshows and in the footers of websites.
Named colleges and schools with pre-existing logos may be granted minor and/or special exceptions only after consultation with the unit's leadership, the Office of Public Affair's chief communications officer and the vice president for development and alumni.
Examples of units using the approved typography and M-State for secondary signatures (horizontal and vertical version):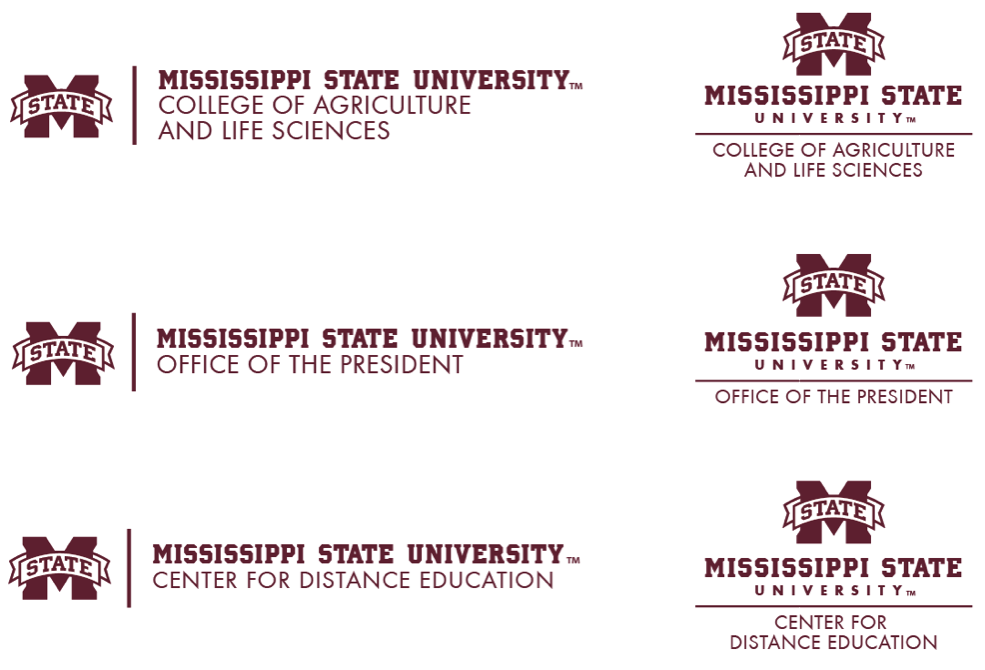 Official secondary signatures for units are available for download here.
Secondary signatures may be used on mailers, inside pages or back covers of publications, internal memos, internal newsletters, promotional items and employee apparel/t-shirts. Under certain conditions they may be used in print ads. They should NOT be used on letterhead, envelopes, business cards, covers for external publications and external collateral material. Questions about the use of these secondary signatures may be sent via email to identity@opa.msstate.edu.
B. Using multiple logos 
When displaying multiple logos on print publications and electronic communications the text for each unit may be stacked in alphabetical order (or order of importance of sponsorship or similar) underneath the vertical university signature. See example shown below. Multiple units can be listed ONLY in the vertical format. The horizontal option is not avaible for multiple unit listings. Using multiple secondary signatures on a single piece can be repetitive and visually confusing. Using the main university signature and listing the units in a university approved font (Futura for example) is an acceptable method of displaying support or involvement of multiple units also. If assistance is needed with typesetting a multiple unit vertical logo arrangement - as described above - please contact OPA's design services group by filling out a request form here.
Vertical Example: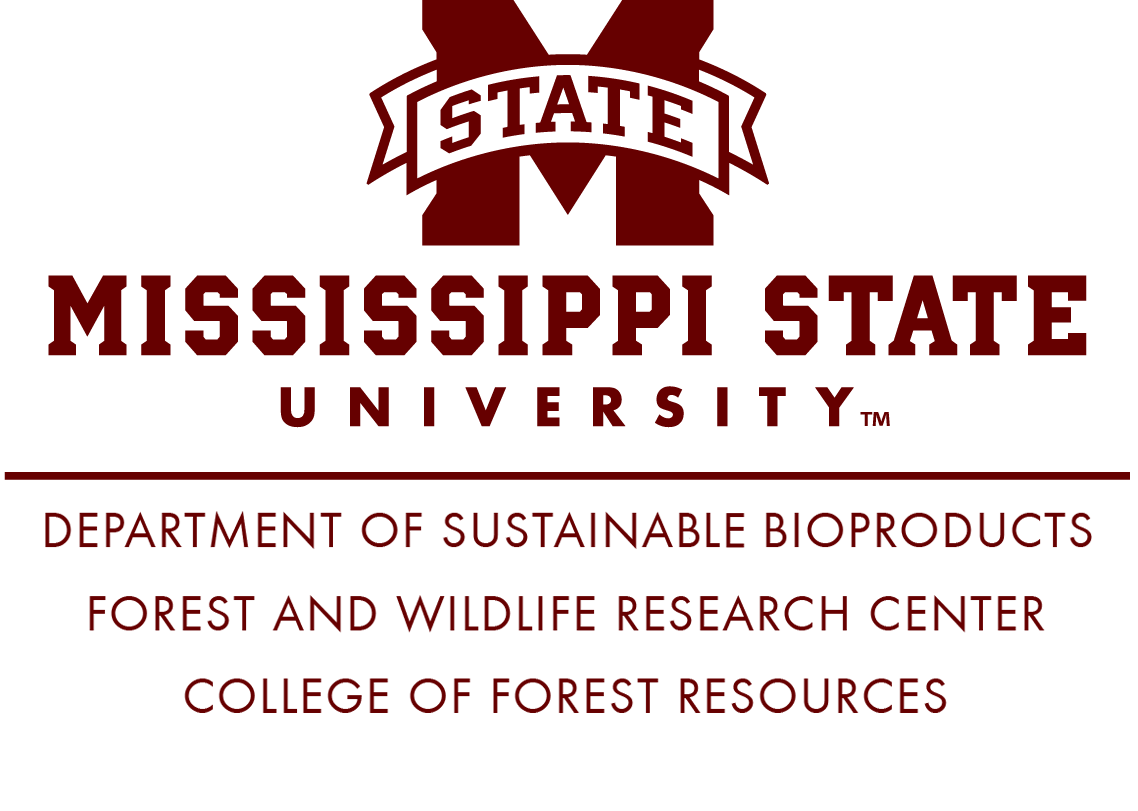 Horizontal Example: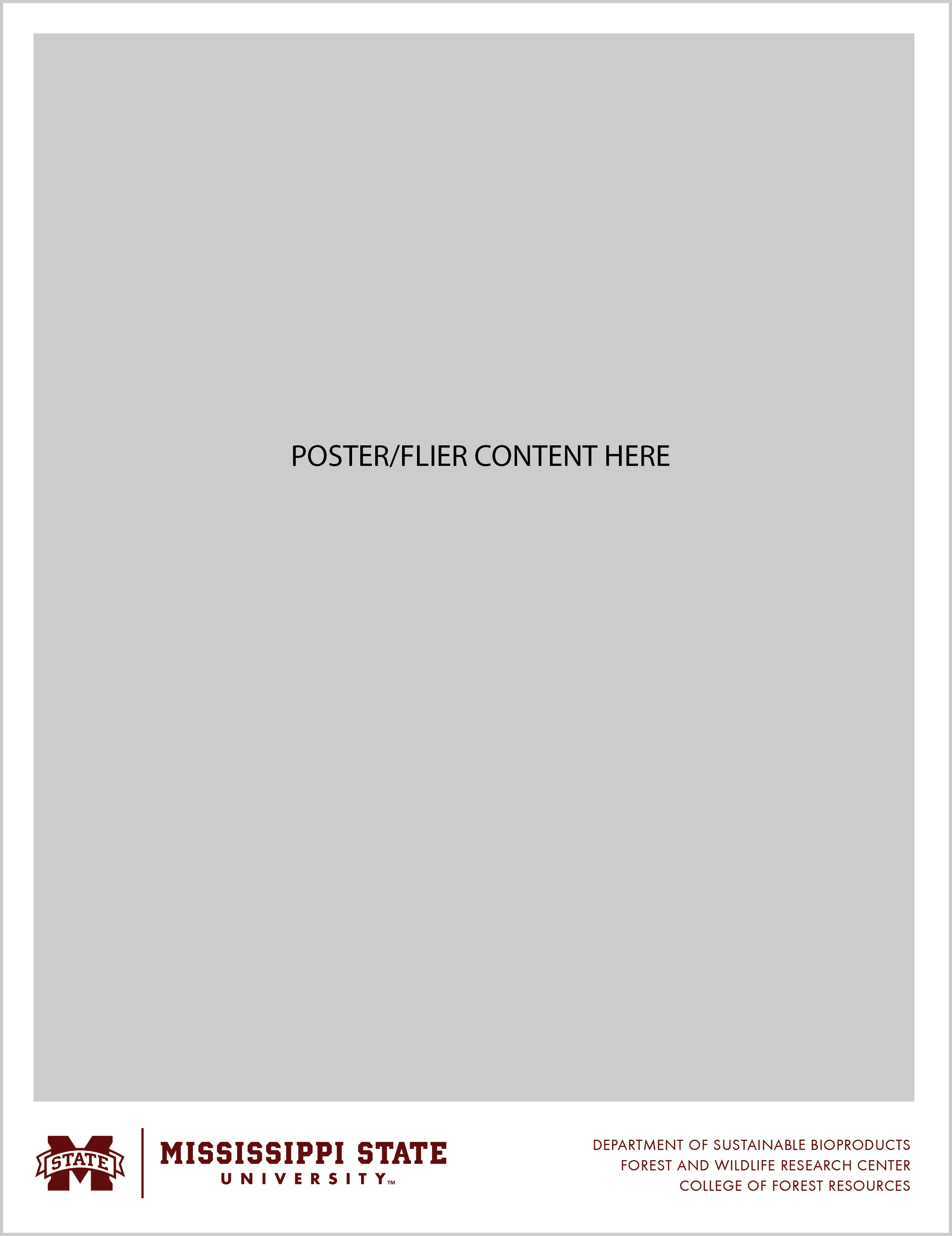 A. Other Entities
Programs and events that are organized through a university unit that already have a specific icon for that program or event, may continue to use their current icons so long as the MSU primary signature or the sponsoring unit's secondary signature is prominently displayed with the graphic also on applicable materials. (Example: fliers, programs, mailers)
Graphics for programs, campus organizations, clubs and events cannot be used as a standalone artwork on promotional materials – the piece must include the MSU primary signature or sponsoring unit's secondary signature.
Program and event graphics and logos are not limited to using only spirit marks. However, graphics that do not utilize spirit marks must be used for internal MSU audiences only and those graphics cannot be used on items for resale. Developed logos and graphics not using the standard university secondary signature look must be approved by Office of Public Affairs (OPA) prior to use. OPA reserves the right to disapprove graphics and marks created for groups and programs on the basis of non-standard design and/or designs that are confusing or detrimental to the overall brand. Designs can be submitted to OPA for review by filling out the form here.
If the organizers of a program or event wishes to have a logo set-up similarly to the university's secondary signature format, that is also permissible. To request a logo be typeset within the visual identity standards for secondary signatures, please fill out the form here.

Student organizations have two categories, sponsored and registered. Click here to learn more about the distinction between the two.
Sponsored student organizations may have logos that use the secondary signature set-up, or use spirit marks with typography including the words "Mississippi State University" and/or "MSU" in combination with the organization's name. Any sponsored student organization that includes spirit marks in their logo must receive approval from the offices of Public Affairs and General Counsel. 
Sponsored Example:
Registered student organizations may have logos that use spirit marks and can use the name of the organization along with "at Mississippi State University" or "at MSU."  They are not allowed to use the secondary signature set-up as their organization's logo. Any student organization that includes spirit marks in their logo must receive approval from the offices of Public Affairs and General Counsel.
Registered Example:
Neither sponsored or registered student organizations may use alternate graphics similar to MSU's official spirit marks (alternate bulldogs, variations of paw prints, or other illustrations of cowbells) in their organization's logo.
Student organizations for which the university also has an NCAA team or is considered a club sport must include the text "Club" in their logo designs.
The use of spirit marks on promotional materials is allowed for all student organizations, provided they use licensed vendors. All merchandise that includes the name of the University and/or logos and spirit marks of the University must be ordered from licensed vendors – NO EXCEPTIONS. This requirement applies whether the merchandise is sold or given away. The Office of General Counsel should be contacted to confirm that the vendor is licensed.
Student organizations must abide by the guidelines found in the Student Organization Manual and on www.one.msstate.edu.
Student organizations that create a website are required to obtain their domain and webspace from ITS and must use the university template.
Along with the official MSU maroon being Pantone 505, below is a sample of approved support and accent colors that can be used in promoting the academic side of the university in print and on the web. Secondary accent colors may be used as a way to highlight an area in a color that works with maroon, but isn't maroon for those instances when you need to draw attention through supporting colors while still promoting MSU. You cannot use the secondary/accent colors without using maroon. Maroon should always be the dominant color in university publications.
Adobe swatch library files for the above colors are available for download here.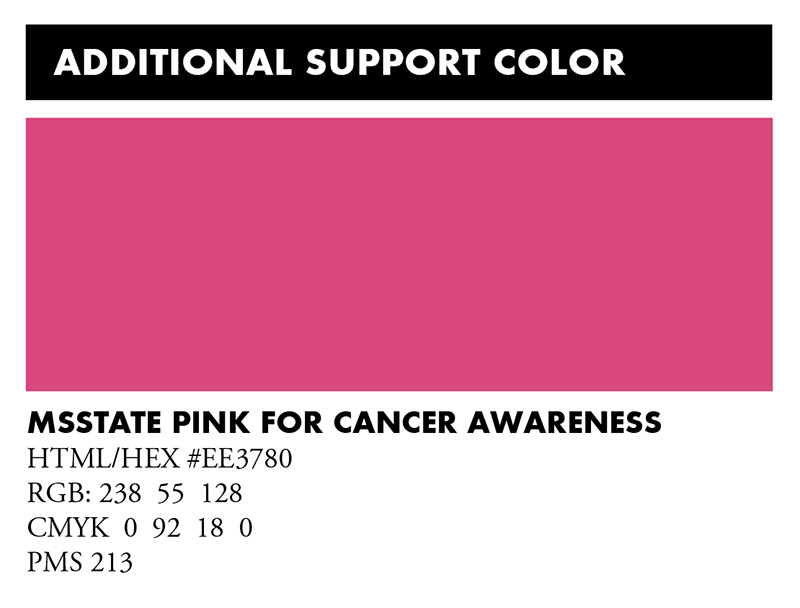 Note: PMS 202 is an acceptable alternative to use ONLY when producing maroon on an uncoated sheet or material. Example: Paper napkins. PMS 209 is an acceptable match to maroon on foam Koozies.
The university seal is the formal identifier of Mississippi State University. The seal was adopted by the institution in 1932 and has been modified several times since then. Elements in use since the 1890s include a sword, symbolizing the military character of the early institution, and a key, representing the "key to knowledge." The shield, symbolizing the federal role in a land-grant institution, has been part of the design since its inception. No alterations or overlapping graphics are permitted with the seal. The minimum diameter of the seal is 5/8". Use of the seal should be restricted to business cards and official university documents, such as diplomas, high-level certificates, awards, annual reports, and letterhead from the Office of the President.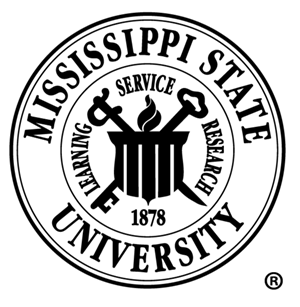 VI. UNIVERSITY TAGLINE – TAKING CARE OF WHAT MATTERS
Taking care of what matters is the university's tagline and is a complete and distinct phrase. Do not tweak or alter it. Do not add to it, subtract from or play with its wording.
When the brand tagline is displayed as a stand-alone headline or with university logos, it should be written in all capitals, same color, with no additional emphasis formatting (i.e. no bold or italics on individual words within the phrase), no smaller than 10pts in size, and no period: TAKING CARE OF WHAT MATTERS
When possible, the brand tagline should be displayed using Futura-Medium (or open source Jost - Medium). The use of the pre-created typeset tagline can be downloaded here. 

When the brand tagline is in copy - naturally as part of a sentence or end of a paragraph - it should never appear inside quotation marks and it should always be written in sentence case: At Mississippi State University, we are taking care of what matters.
VII. OTHER UNIVERSITY MARKS & GRAPHICS
A. Alumni Marks
Marks used by alumni chapters can be downloaded here. The marks directly below, FAMILY and ALUMNI, may be used by alumni groups, student groups and internal departments of the university. The bulldog silhouette that includes Hail State and star burst effect is a mark restricted to event use only in relationship to Giving Days. The bulldog-Hail State-star burst mark is not allowed for use outside of Alumni or Giving Days.


B. Athletic Marks
The spirit marks or informal marks are used to communicate school spirit. Spirit marks may not be used in departmental secondary logos; however, the Athletics Department, officially recognized student groups and alumni organizations may use spirit marks in their logos with prior approval by the Office of Public Affairs. These marks should be used only when a bolder, more informal look is desired, and never should compete graphically or be used as a substitute for the university's official signature. The marks shown below in the subcategories 1-5 must not be altered, either in appearance or color.
1. Primary Spirit Mark
These marks cannot take the place of the primary university signatures on publications and websites promoting the academic side of the university. Use of the M-State mark is for athletic related promotions.



2. Bulldog Mark
These marks cannot take the place of the primary university signatures on publications and websites promoting the academic side of the university. Use of the Bulldog and M-State mark is for athletic related promotions.



3. Athletic Word Marks
These marks cannot take the place of the primary university signatures on publications and websites promoting the academic side of the university. The Mississippi Banner logo takes the M-State logo concept and expands it into the design below. The Mississippi Banner word mark uses a ® mark. The use of this mark on business cards is reserved for Athletics. The Mississippi State horizontal and vertical Athletic word marks use the ™ next to the marks and are for athletic related promotions only. Academic units should utilize the institutional word mark and not the athletic ones. The Hail State marks include the ® mark. Use of these marks are for athletic related promotions.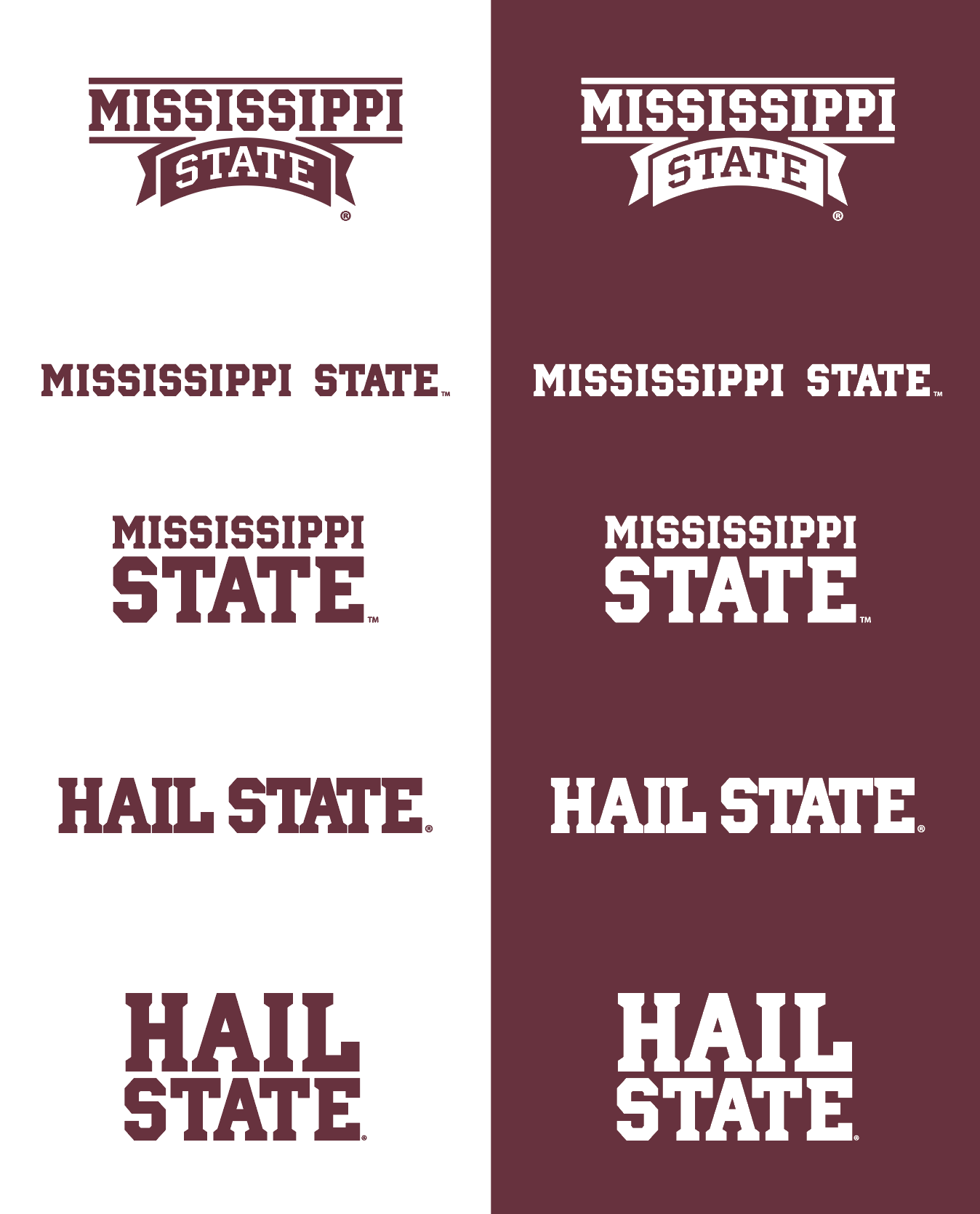 4. Secondary Spirit Marks 
While the M-State logo is the most recognizable of MSU's informal branding symbols, others strongly represent the institution. These are the university mascot Bully, the paw print and the cowbell. Innovative designs using these symbols have been created for use. The secondary spirit marks of the Paw Print, the isolated Bulldog Head and Cowbells, Welcome To Our State, and/or This Is Our State graphics must be used with a primary mark or text referencing Mississippi State University.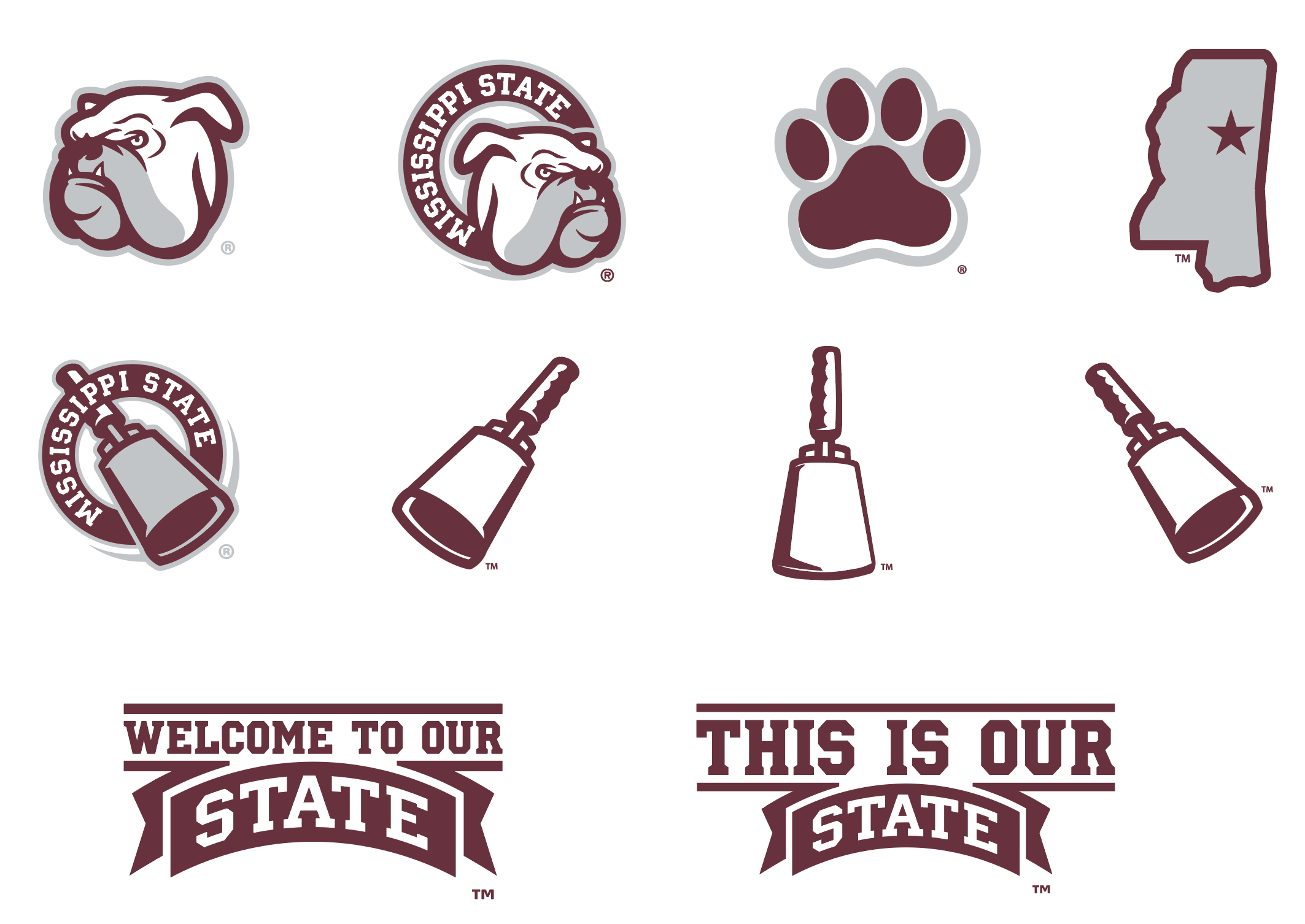 5. Baseball Marks
The following marks used by Athletics and retail are for Baseball only. Their use is not allowed for internal institutional units.


6. Bully Marks
The Bully Marks may be used as is or customized with alternate clothing and props for Student Organizations and other Institutional Units outside of Athletics. Use of these marks is encouraged over the creation of alternate illustrations of the live mascot or the use of unapproved bulldog silhouettes. Any altered illustrated version of these upright, dressed bully marks must be reviewed and approved by the Office of Public Affairs prior to use.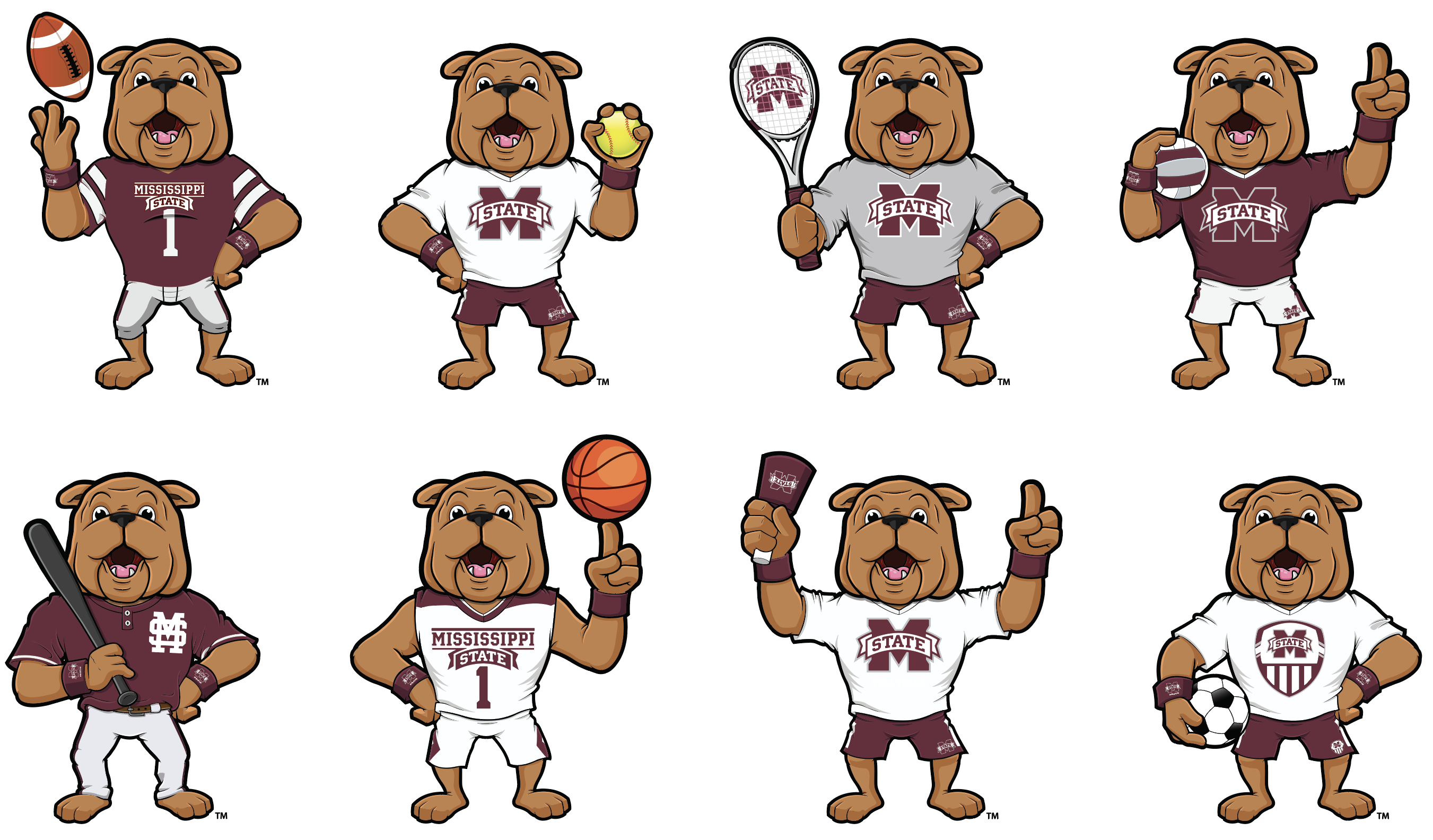 C. Starkvegas Marks
Welcome to Fabulous Strarkvegas, Starkvegas MS and Starkvegas graphics can be used by Athletics, alumni, student organizations and internal departments on promotional items. They cannot be used as standalone graphics without reference to the university on print materials.


D. Retail Marks
College Vault logos (including the Flag Bully, Walking Bully, Flying M and Swinging Bully) and the Bulldog silhouette illustration shown below are for retail use only. Their use is restricted.


E. Support Graphics
University graphics and marks that are widely recognizable across the campus community and have been granted approval from both the Office of General Counsel and the Office of Public Affairs.
1. ARC M
The mark is known as the ARC M, and is named and registered for the Mississippi Animal Research Center. It is currently recognized by the livestock community as a graphic that represents Mississippi State University's quality of livestock. The Department of Animal and Dairy Science is allowed to use the mark on promotional items such as shirts, jackets, vests and caps for faculty and student representing the University at events. The mark would not replace or be used on official university letterhead or business cards, only for promotional items and apparel. The logo will run vertically only, there is not a horizontal option.

VIII. TRADEMARK PROTECTIONS
A. Trademarks
The following listed logos and marks show the necessary ® or ™ that is needed when they are displayed.



Federally Registered Marks - Require ®

MState with Banner (image)
Mississippi State Banner (image)
Bulldog MState (image)
Bulldog Head (image)
Paw Print (image)
Cowbell in Circle (image)
Baseball stacked MS (image)
University Wordmark (image)
University Seal (image)
M over S (Baseball Mark)
M over S (Baseball Thin- caps only)




Marks Requiring ™

This is Our State (image)
Welcome to Our State (image)
Stand Alone Cowbell (image)
Bulldog Silhouette (image)
University Signature (image)
We Ring True (image)
College Vault - Walking Bully (image)
College Vault - Swinging Bully (image)
College Vault - Flying M (image)
College Vault - Flag Bully (image)
* The Egg Bowl trophy logo and verbiage are restricted to selected licensees and require a ™ (registered jointly with Ole Miss and therefore require approval of Ole Miss licensing).
* Omaha, and references to SuperDawgs, can only be used by NCAA licensees, and must include the CWS logo.
B. Verbiage
In addition to the logos mentioned above, the university has rights to the following verbiage. Any phrase listed here can be typeset in any in font or style, unless otherwise noted, so long as it displays the appropriate identifier of ® or ™. All uses of MSU's verbiage shall incorporate the appropriate trademark identifiers (i.e., ® or ™) when used in graphic marks and logos.
Mississippi State University ®
Mississippi State ®
Hail State ®
#HailState ®
MSU ™
Bulldog ™
Bulldogs ™
Dawg ™
Dawgs ™
Bully ™
State ™
This is Our State ™
Welcome to Our State ™

Maroon Friday ™
True Maroon ™
The Hump ™
Hump ™
Davis Wade Stadium ™
DWS ™
Polk Dement Stadium ™
Dudy Noble Field ™
DNF ™
The Dude ™
Left Field Lounge ™
LFL ™
Left Field Lofts ™
More Cowbell ™
Praise the Lord and Go Dawgs ™
PTLGD ™
The Junction ™
Junction ™
We Ring True ™
Fight Song excerpts receive a ™

C. Songs
Any written portions displayed as art or on promotional items require a ™. Any production or recorded performances of Maroon and White and/or Hail State, outside of MSU ensembles, requires approval from OPA.
Maroon and White (Alma Mater)
In the heart of Mississippi,
Made by none but God's own hands,
Stately in her nat'ral splendor
Our Alma Mater proudly stands;
Mississippi State we love you,
Fondest mem'ries cling to thee,
Life shall bear thy spirit ever,
Loyal friends we'll always be.
 
Chorus:
Maroon and White! Maroon and White!
Of thee with joy we sing;
Thy colors bright our souls delight,
With praise our voices ring.
Words by T. Paul Haney Jr.
Music by Henry E. Wamsley
Hail State (Fight Song)
Hail dear ol' State!
Fight for that victory today.
Hit that line and tote that ball,
Cross the goal before you fall!
And then we'll yell, yell, yell, yell!
For dear ol' State we'll yell like H-E-L-L!
Fight for Mis-sis-sip-pi State,
Win that game today!
Words & music by Joseph Burleson Peavey, 1939
Go State! (Battle Cry)
Hey! Go State!
Hey! Go State!
Hey! Go State!
We're gonna beat the hell outta you!
Maroon!
White!
Fight. Fight. Fight!
Mississippi State-Woooo!
Damn right!
World Wide Web Pages and other Electronic Publications 01.13
), the official university signature must appear on every official web page of the university.
Any of the following two signature versions may be used. They may be either maroon or white, but no other color. Transparency is permitted however, to show the signature on a background. They may not be used any smaller than:
| | |
| --- | --- |
| | 300 pixels wide by 52 high |
| | 270 pixels wide by 120 high |
| | 300 pixels wide by 52 high |
| | 270 pixels wide by 120 high |
These sizes do not include the protected space surrounding the signature.
The official signature must appear at the top left of the web page. No other Mississippi State graphics may be used in place of the signature with the exception of the approved unit's secondary signature, which can be downloaded here.
Nothing else may appear higher on the page than the signature or the unit's secondary signature (See II Secondary Signatures).
The official signature may be used, but is not required, on student and faculty personal web pages located at a msstate.edu address.
The official MSU maroon color for web pages is the web-safe color 93, 23, 37 (RGB) or #5D1725 (hex). The named color "maroon" should not be used; in other words, use <body bgcolor="#5D1725"> rather than <body bgcolor="maroon">.
The official university website template is located here: https://www2.drupal.msstate.edu/examples
Use of this template, through the assistance of ITS Web Services, will be the standard for all university websites. The header, menu and footer requirements must be met as displayed here. A few elements within the footer and header allow for customization; unit's formal MSU secondary signature logo in the header, top right menu bar link options, social media icon displays, secondary unit graphic to display in the footer - lower right - if needed, and unit address in the footer. Any further variations beyond the university approved template will require approval from the Chief Communication Officer.
MSU web sites should comply with these standards as soon as possible. Deadline for university-wide compliance to the above web standards and use of the approved university template and layout for websites is January 1, 2018.
For questions about logo placement and web usage, contact identity@opa.msstate.edu at 662-325-7467.
University stationery sends a powerful visual message about the writer and the university. A consistent visual identity through the use of the official university signature projects a sense of institutional unity. The official signature must be the main identifying element on university letterhead and must be printed in PMS 505 maroon or black ink.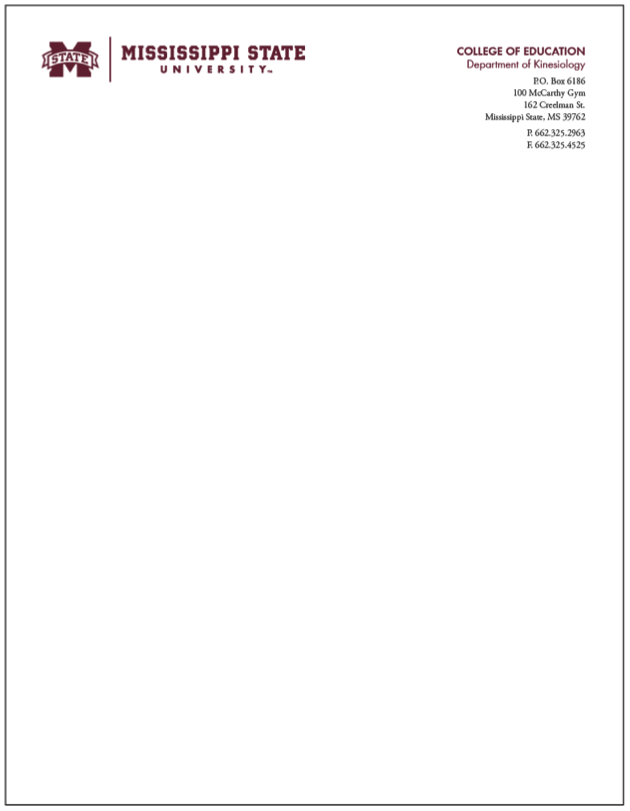 Certain units of the Division of Agriculture, Forestry and Veterinary Medicine may use adaptations of the basic Mississippi State letterhead that are necessary to comply with federal regulations on the use of penalty mail (Penalty mail - official federal government mail, other than franked mail, that is authorized by law to be transmitted in the mail without prepayment of postage.)
A. Employee Business Cards
Business cards often introduce the university to people not familiar with the institution. It is important that this visual contact convey an identity that can be reinforced in subsequent contacts through consistent use. University business cards should be printed in PMS 505 maroon or black ink.
The primary side, which includes the contact information, should contain the university primary signature or the university seal along with the wordmark as shown in the below examples. Because of the size of a business card, other logos, secondary unit signatures and slogans should not be used on the primary side of the card in competition with the university signature. This additional information may be added to the secondary side of the card. Template files for MSU business cards can be downloaded here.
| | | |
| --- | --- | --- |
| | | |
| | | |
Students must use the card shown below for networking cards.  The official University signature may not be used. Students - including undergraduate, graduate, graduate assistants, graduate research assistants, or doctoral candidates - cannot use the official MSU employee cards. The cards must identify "student" status and include the expected graduation date.  Cards must be printed by an approved vendor/licensee and approved by the Office of Public Affairs.  Click here to download a template of the below example.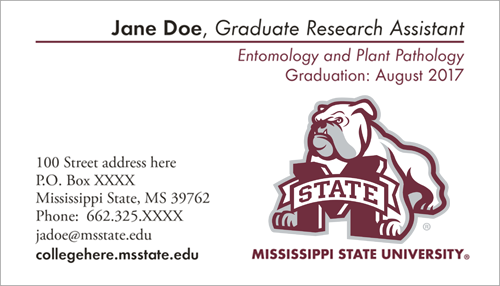 XIII. ENVELOPES AND MAILING LABELS
University business envelopes in various sizes should be printed with the official University signature or approved secondary logo and return address in PMS 505 maroon or black on the front top left corner. Special event logos or themes also may be used, but must be printed on the back flap of the envelope. Specialty or announcement envelopes for invitations or custom cards can also have the return address printed on the back flap of the envelope in black or PMS 505 maroon.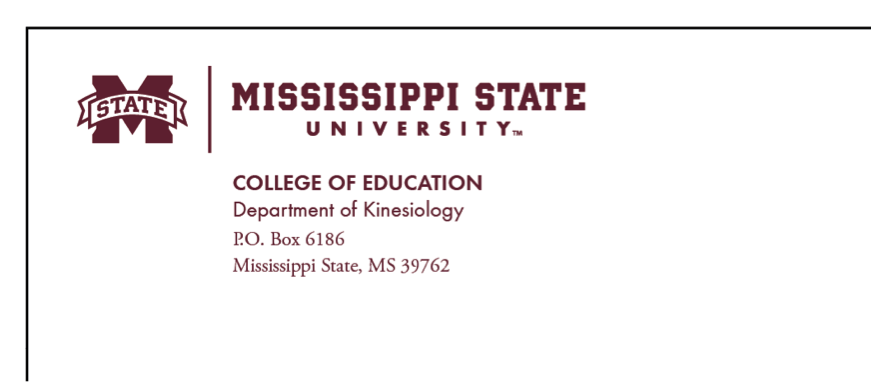 A. University Logo Inclusion:
The official university signature must appear prominently on the front or back cover of all university publications. The offices of Public Affairs and Agricultural Communications offer design and project coordination. Units of the university are encouraged to seek assistance with publication design and production through one of these departments. If these units choose to develop and produce their own materials, the design should be reviewed by Public Affairs or Agricultural Communications prior to printing to ensure consistency with these standards.
B. University EEO Statement Inclusion:
The university must include EEO statements on all publications as described below.
Very Short Statement: EO/AA
For small print ads, web ads, or fliers. Should be used only where no longer statement is feasible. For web-based ads that link to a larger page, the larger page normally should include the full statement below.

Short Statement: Mississippi State University is an equal opportunity institution.
For short brochures, mailers, e-newsletters, and advertisements that are not targeted toward recruiting potential students or employees. For materials targeted at recruitment, the full statement is mandatory.

Full Statement: Mississippi State University is an equal opportunity institution. Discrimination in university employment, programs or activities based on race, color, ethnicity, sex, pregnancy, religion, national origin, disability, age, sexual orientation, gender identity, genetic information, status as a U.S. veteran, or any other status protected by applicable law is prohibited. Questions about equal opportunity programs or compliance should be directed to the Office of Civil Rights Compliance, 231 Famous Maroon Band Street, P.O. 6044, Mississippi State, MS 39762, (662) 325-5839.
For most university publications, including magazines, multi-page brochures, and newsletters. Mandatory for publications, bulletins, announcements, catalogs, application forms, or other materials targeted at recruiting potential students or employees.

Disability Accommodation Statement: Mississippi State University is an equal opportunity institution. For disability accommodation, please contact [name of contact person] at [phone number and/or email address].
For use on materials that invite participation or attendance at a specific university event or activity. Organizers of events should designate a person within their organization as the point of contact.
The logo will be displayed in maroon, white or black, depending on the vehicle color. Artwork for vehicle identification is available through the Office of Public Affairs.
Example: Unit name displayed on the sides.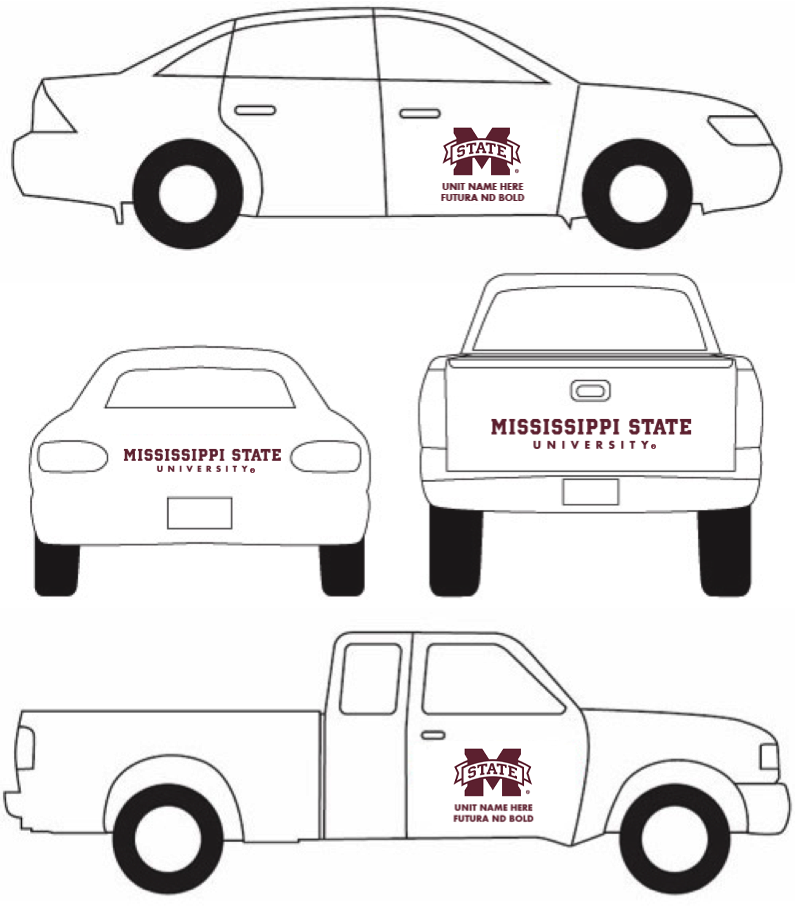 Example: Using the official Mississippi State University wordmark signature on the back and the spirit wordmark on the sides.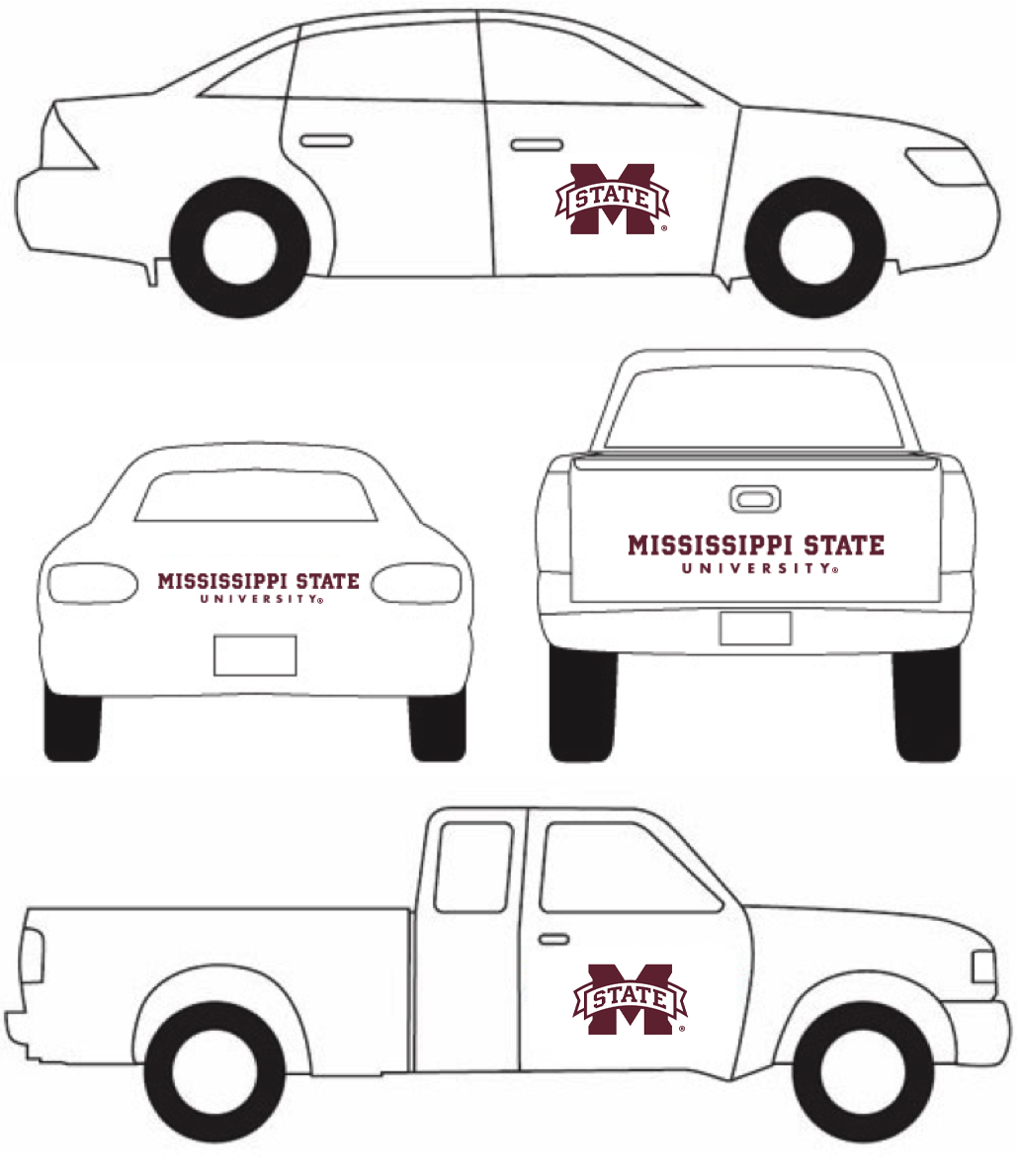 The university and its other units will use the M-State logo and their unit's name in Futura ND Bold, centered below in white on a background of maroon, #5D1725.  (See examples below).These social media icons will be provided by Office of Public Affairs and are available fordownload as a part of each unit's logo package.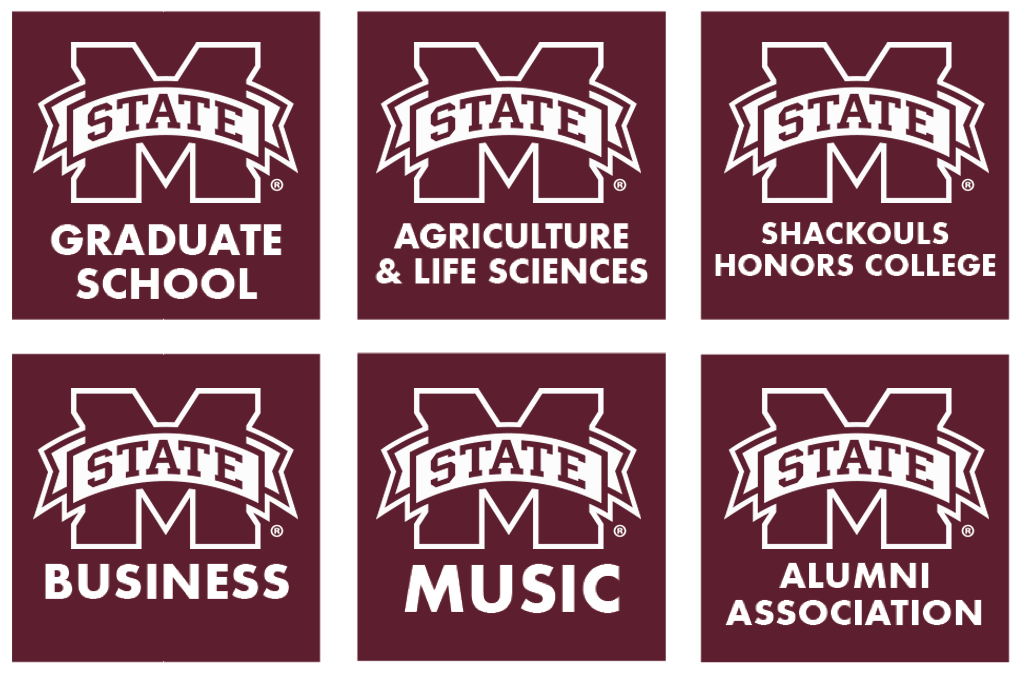 XVII. LICENSING REQUIREMENTS FOR VENDORS
The university requires vendors who produce merchandise/products using MSU logos/marks to be licensed through its licensing agency, Collegiate Licensing Company (CLC). Vendors who produce merchandise for resale are required to pay a royalty to the university that is distributed at the president's discretion to fund various programs and scholarships.  A vendor is only exempt from paying royalty when the product is produced for an internal department of MSU and the product is not resold. The Bulldog Club, MSU Foundation and MSU Internal Departments (including Greek orgs) are exempt from royalty if the product is given away and purchased with state funds.
Licensed Vendor List (pdf) – A list of vendors who can supply to internal university departments and student organizations.
Additional Information:
University seal permitted on products for resale (reviewed on a case-by-case basis).

University licenses consumables (must have expiration date on packaging).

University licenses health and beauty products.

University permits numbers on products for resale. Number 00, 1, 78 and current calendar year are allowed.

Mascot caricatures will be considered; requires school approval.

Cross licensing or co-branding with other marks may be permitted with approval from the Office of Trademark Licensing on a case-by-case basis.

No use of current players' name, image or likeness is permitted on commercial products in violation of NCAA rules and regulations.

Do not buy shirts from various unlicensed vendors and then try to have a licensed vendor apply the MSU marks. This is not allowed.

NO references to alcohol, drugs, or tobacco related products may be used in conjunction with University marks.

School will consider trendy/fashion colors and designs (polka dots, animal prints, etc.) as fills within logos and verbiage on a case-by-case basis.

These visual identity standards, along with OP 06.03, should provide general information and guidance regarding the use of the university's logos/marks. Contact the Office of Public Affairs, PO Box 5325, Mississippi State, MS 39762 or telephone 662-325-7454 for specific questions not addressed in this document or the policy referenced above. Contact the Office of General Counsel to request a list of approved vendors. 
Forms, Advertisements, Videotapes, Displays, Exhibits, Etc.
Any university-related advertisements placed in print media or on television must contain the official university signature. The university signature must be used in any university videotape productions as well. Exhibits, displays and forms for external use representing the university must display the official University signature or spirit mark, excluding the paw print and bulldog head.
XIX. DEVELOPMENT AND MODIFICATION OF STANDARDS
The university's standing communications council periodically will evaluate and, if necessary, recommend revision of the visual identity standards. Requests for exceptions to these standards should be submitted to the Office of Public Affairs.
Questions concerning internal use of the university signature and other approved university symbols should be addressed to the Office of Public Affairs at 662-325-3442. Questions concerning commercial vendors and licensing should be addressed to the Office of General Counsel at 662-325-8131.